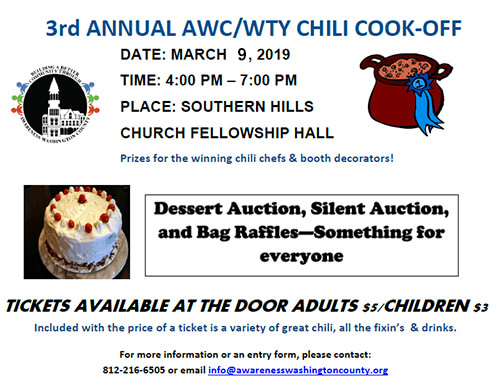 Awareness Washington County and We the Youth invite the community to the third annual Chili Cook-Off. Scheduled for March 9 from 4-7 pm at Southern Hills Church, the Cook-Off will include great food, fellowship, and many different activities.
Chili cooks are invited to showcase their best chili and compete for cash prizes for Best Judged Red Chili, Best Judged White Chili, People's Choice, and Best Decorated booth. There is no fee to enter, but registration should be completed soon as the contest is limited to 14 teams this year.
The public is invited to sample the variety of savory bowls of chili and vote for their favorite. Admission is $5 for adults and $3 for children for chili, all the fixings, and a drink. Two dessert auctions will be held during the evening, so people can bid on tasty cakes, pies, cupcakes and other pastries.
The Cook-Off will also feature a silent auction and a bag raffle, popular events at previous years' cook offs.
Proceeds from the evening will help to support the servant leadership activities of the adult and youth programs.
Sponsorship opportunities are available. Contact AWC at 812-896-1930 or 812-216-6505 for more information or entry forms. Inquiries can also be made at This email address is being protected from spambots. You need JavaScript enabled to view it. .
Entry forms are available below and should be returned via email to This email address is being protected from spambots. You need JavaScript enabled to view it. or by mail to AWC, P.O. Box 212, Salem, IN 47167.
Click here to download a Chili Cook-Off Registration Form (pdf)
Click here to become a Chili Cook-Off Sponsor (pdf)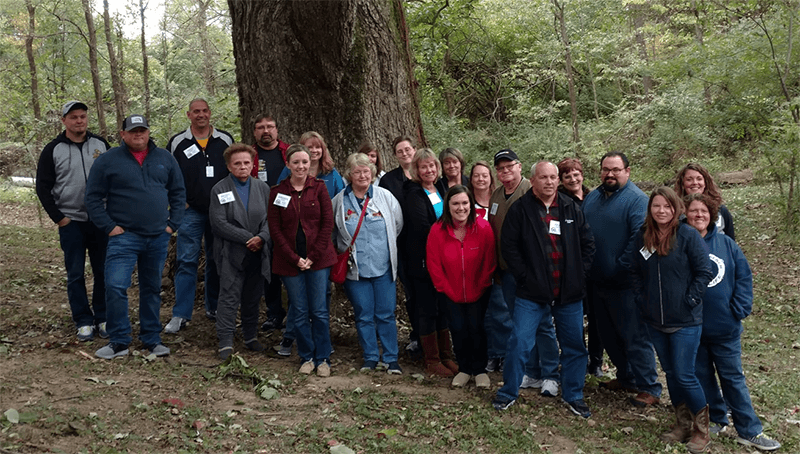 The large oak tree located on the original homestead of Philbert and Molly Sears Wright has been visited annually by Awareness Washington County for over 25 years. The species of this oak tree has been speculated on during this time. Its combination of size, leaf, acorn and bark didn't seem to match up with Chinquapin, Swamp White, or Burr Oak characteristics. This year, AWC participant Troy Albert, identified it as a Swamp Chestnut Oak (Quercus michauxii).
2019 Adult Class Members
Brande Abbott, Troy Albert, Sue Bennett, Nathan Bills, Wayne Blevins, Sherri Brown, Amanda Calfee, Becky Crane, Klay Dougherty, Sarah Fisher, Dennis Germann, Rhett Huffaker, Amanda Hurst, Jennifer Hutchinson, Laura Lee, Tina Lee, Chelsey Miller, Dylan Moore, Kevin Nance, Helen Pickens, Sandy Shields, Jennifer Stahl and Deni Stempowski

AWC has partnered with GoodShop so that now you can enjoy shopping online while helping support the development of servant leaders in Washington County!
Goodshop gives you the best coupons for thousands of stores like Target, Apple, Amazon, Petco and more AND a percentage of what you spend on virtually every purchase is donated to our cause! Plus, with the Goodshop app for iPhone and iPad, you can shop, save, and give on the go.
Find Coupons and Special Offers from these retailers: Amazon, Target, Expedia, Barnes & Noble, Dell, Apple, Pier 1, Macy's, Holiday Inn, Macys, Saks Fifth Avenue, Land's End, Etsy, Clinque, NFL Shop and many other top brands,
Save money and help a good cause every time you shop! Check it out today and start shopping online by : www.goodshop.com.